MASSIMO GUIDOLIN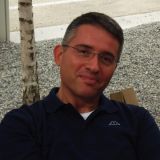 Professore Ordinario
Dipartimento di Finanza

Insegnamenti a.a. 2019/2020
10567

PORTFOLIO MANAGEMENT
11320

MACROECONOMIA
20135
TEORIA DELLA FINANZA / THEORY OF FINANCE
20192
FINANCIAL ECONOMETRICS AND EMPIRICAL FINANCE - MODULE 2
20356
PRECORSO DI STATISTICA / STATISTICS - PREPARATORY COURSE
20541
ADVANCED QUANTITATIVE METHODS FOR ASSET PRICING AND STRUCTURING
20550
PRECORSO DI METODI QUANTITATIVI PER LA FINANZA / QUANTITATIVE METHODS FOR FINANCE - PREPARATORY COURSE
40405

ADVANCED ECONOMETRICS 3
Note biografiche
Nato il 15 Dicembre 1968.
1993, Laurea in Economia Politica, Summa cum Laude, from Bocconi University (Relatore: Prof. Giovanna Nicodano)
1997, M.Phil. in Economics da University of California, San Diego.
2000, Ph.D. in Economics da University of California, San Diego (Doctoral committee chair: Prof. Allan Timmermann)
Curriculum Accademico
Ho conseguito un dottorato di ricerca (Ph.D.) dall'Università della California, San Diego nell'anno 2000. Ho esperienza lavorativa alle dipendenze dell'Università della Virginia come assistant professor di economia finanziaria, la Federal Reserve Bank di St. Louis (sistema della Riserva Federale USA) prima come senior economist e poi come Junior Vice-President (settore mercati finanziari), ed il dipartimento di Finanza e Contabilità della Manchester Business School come chaired professor of Finance.
Ho anche insegnato corsi o ha occupato per brevi periodi posizioni di membro della facolta' ovvero visiting researcher in diverse altre istituzioni come il Collegio Carlo Alberto (Università di Torino), Olin Business School (Washington University in St. Louis, negli USA), il Center for Research on Pensions and Welfare (CERP, Università di Torino), l'Università dell'Insubria (Varese), e la Université de Montreal in Canada. I corsi da me insegnati vanno dalla Finanza Aziendale, la Teoria della Finanza, l'Econometria Finanziaria ed Applicata, il Pricing dei Derivati e, naturalmente, l'Econometria a livello sia undergraduate che post-graduate.
Ho pubblicato la mia ricerca in riviste accademiche di livello internazionale nei settori dell'economia, dell'econometria, e della finanza, quali la American Economic Review, il Journal of Financial Economics, il Journal of Econometrics, la Review of Financial Studies, e l'Economic Journal. Sono parte del comitato editoriale di alcune riviste accademiche specializzate, tra esse il Journal of Economic Dynamics and Control (Elsevier Press) e l'International Journal of Forecasting (Elsevier).
Dal 2013 dirigo la laurea magistrale in finanza dell'Universita' Bocconi, recentemente ranked al nono posto dal Financial Times nella categoria pre-experience.
Aree di interesse scientifico
I miei interessi di ricerca sono ampi benche' generalmente di contenuto empirico/applicato, e vanno da modelli non lineari per le serie storiche (per esempio, modelli con regimi, effetti soglia, e cambi di regime) in finanza e macroeconomia, metodi e modelli di previsione, applicazioni a modelli e metodi di scelte di portafoglio quando i rendimenti finanziari sono prevedibili, metodi empirici di pricing per derivati, e modelli di prezzo delle attivita' in presenza di learning e dinamica nelle aspettative dei mercati.
Recentemente, mi sono anche occupato di ricerche concernenti l'uso di metodi "event studies" per la quantificazione dell'impatto economico di eventi politici, dell'economia degli incentivi che caratterizzano scelte ed azioni da parte degli analisti finanziari, e del ruolo di ambiguita' in modelli di valutazione e di scelta di portafoglio.
Pubblicazioni
PUBBLICAZIONI SELEZIONATE
"Regime Shifts in Excess Stock Return Predictability: An Out-of-Sample Portfolio Analysis"
with G. Dal Pra, M. Pedio, and F. Vasile
Journal of Portfolio Management, 2018, 44, pp.10-24.
Abstract
"Can No-Arbitrage SDF Models with Regime Shifts Explain the Correlations Between Commodity, Stock, and Bond Returns?"
with M. Giampietro and M. Pedio
European Journal of Operational Research
, 2018, 265, pp. 685-702.
Abstract
Essentials of Time Series for Financial Applications
with M. Pedio
Academic Press/Elsevier (ISBN 9780128134108)
"Macroeconomic Factors Strike Back: A Bayesian Change-Point Model of Time-Varying Risk Exposures and Premia in the US Cross-Section"
with D. Bianchi and F. Ravazzolo
Journal of Business and Economic Statistics, 2017, 35, pp. 110-129.
"Dissecting the 2007-2009 Real Estate Market Bust: Systematic Pricing Correction or Just a Housing Fad?"
with D. Bianchi and F. Ravazzolo)
Journal of Financial Econometrics, 2017, 16, pp. 34-62.
"The Impact of Monetary Policy on Corporate Bonds under Regime Shifts"
with A. Orlov and M. Pedio
Journal of Banking and Finance, 2017, 80, pp. 176-202.
"Ambiguity Aversion and Under-Diversification"
with H. Liu
Journal of Financial and Quantitative Analysis, 2016, 51, pp. 1297-1323.
"Learning How to Smile: Can Rational Learning Explain the Predictable Dynamics in the Implied Volatility Surface?"
with A. Bernales
Journal of Financial Markets, 2015, 26, pp. 1-37.
Abstract
The Transmission Channels of Financial Shocks to Stock, Bond, and Asset-Backed Markets. An Empirical Model
with V. Fabbrini and M. Pedio
2015 Palgrave McMillan Publishing Company, Basingstoke, United Kingdom.
Abstract
"Can We Forecast the Implied Volatility Surface Dynamics of Equity Options?"
with A. Bernales
Journal of Banking and Finance, 2014, 46, pp. 326-342.
Abstract
"Can Long-Run Dynamic Optimal Strategies Outperform Fixed-Mix Portfolios? Evidence from Multiple Data Sets"
with D. Bianchi
European Journal of Operational Research, 2014, 236, pp. 160-176.
Abstract
"Markov Switching Dynamics in REIT Returns: Univariate and Multivariate Evidence on Forecasting Performance"
with B. Case and Y. Yildirim
Real Estate Economics, 2014, 42, pp. 279-342.
Abstract
"Does the Macroeconomy Predict U.K. Asset Returns in a Nonlinear Fashion? Comprehensive Out-of-Sample Evidence"
with S. Hyde, D. McMillan, and S. Ono
Oxford Bulletin of Economics and Statistics, 2014, 76, pp. 510-535.
Abstract
"Can VAR Models Capture Regime Shifts in Asset Returns? A Long-Horizon Strategic Asset Allocation Perspective"
with S. Hyde
Journal of Banking and Finance, 2012, 36, pp. 695-716.
Abstract
"Time and Risk Diversification in Real Estate Investments: Assessing the Ex Post Economic Value"
with Carolina Fugazza and Giovanna Nicodano
Real Estate Economics, 2009, 37, pp. 341-81.
Abstract
"Affiliated Mutual Funds and Analyst Optimism"
with Simona Mola
Journal of Financial Economics, 2009, 93, pp. 108-37.
Abstract
"Forecasts of US Short-term Interest Rates: A Flexible Forecast Combination Approach"
with Allan Timmermann
Journal of Econometrics, 2009, 150, pp. 297-311.
Abstract
"International Asset Allocation under Regime Switching, Skew and Kurtosis Preferences"
with Allan Timmermann
Review of Financial Studies, 2008, 21, pp. 889-935.
Abstract
"Diamonds Are Forever, Wars Are Not. Is Conflict Bad for Private Firms?"
with Eliana La Ferrara
American Economic Review, 2007, 97, pp. 1978-93.
Abstract
[also CEPR discussion paper No. 3005]
"Asset Allocation under Multivariate Regime Switching"
with Allan Timmermann
Journal of Economic Dynamics and Control, 2007, 31, pp. 3503-44.
Abstract
"High Equity Premia and Crash Fears. Rational Foundations"
Economic Theory, 2006, 28, pp. 693-708.
Abstract
"Predictable Dynamics in the S&P 500 Index Options Implied Volatility Surface"
with Silvia Gonçalves
Journal of Business, 2006, 79, pp. 1591-1635.
Abstract
"Term Structure of Risk under Alternative Econometric Specifications"
with Allan Timmermann
Journal of Econometrics, 2006, 131, pp. 285-308.
Abstract
"An Econometric Model of Nonlinear Dynamics in the Joint Distribution of Stock and Bond Returns"
with Allan Timmermann
Journal of Applied Econometrics, 2006, 21, pp. 1-22.
Abstract
"Economic Implications of Bull and Bear Regimes in UK Stock and Bond Returns"
with Allan Timmermann
Economic Journal, 2005, 115, pp. 111-43.