GAIA RUBERA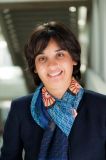 Docente Associato
Dipartimento di Marketing

Insegnamenti a.a. 2017/2018
20543
SOCIAL MEDIA MARKETING
40250
ADVANCED MARKETING STRATEGY
40319
MARKETING RESEARCH METHODS
Note biografiche
Laureata in Economia Aziendale presso l'Università Bocconi. PhD in Economia Aziendale e Management, presso l'Università Bocconi.
Curriculum Accademico
Professore Associato di Marketing.
Assistant Professor nel dipartimento di Marketing a Michigan State University (2008-2012).
Responsabile per la ricerca presso il Center for Innovation alla Marshall School of Business, University of Southern California (2007-2008).
Membro dell'editorial board del Journal of the Academy of Marketing Science e del Journal of International Marketing.
Aree di interesse scientifico
Innovazione e sviluppo nuovi prodotti. Marketing strategico. Creatività. Innovazione di design. Social media. Business Analytics
Pubblicazioni principali