FABRIZIO CASTELLUCCI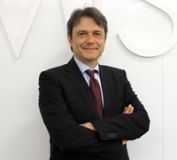 Professore Associato
Dipartimento di Management e Tecnologia

Insegnamenti a.a. 2020/2021
10720

ORGANIZATIONAL BEHAVIOUR
11735

HUMAN CAPITAL WEEK
11833

RESEARCH PROPOSAL PRESENTATIONS
11834

WRITING A LITERATURE REVIEW
11934

DEFINING A RESEARCH TOPIC
20158
ORGANIZZAZIONE D'IMPRESA / ORGANIZATION
20159
SEMINARI PER LO SVILUPPO DI ABILITA' COMPORTAMENTALI / BEHAVIOURAL SKILLS SEMINARS
40320

ORGANIZATIONAL SOCIOLOGY
Note biografiche
Ph.D. in Organizational Behavior, Graduate School of Business, Stanford University. M.A. in Business Research, Graduate School of Business, Stanford University. M.A. in Sociology, School of Humanities and Sciences, Stanford University. Laurea Cum Laude in Economia e Commercio, Università degli Studi di Bologna
Curriculum Accademico
Assistant Professor all'Università Commerciale L. Bocconi dal settembre 2009.
Professore di Leadership, SDABocconi
Visitng Professor di Organizational Behavior, INSEAD dal 2009
Affiliate Professor, Wharton Sports Business Initiative, Wharton School, University of Pennsylvania dal 2005
Assistant Professor di Organizational Behavior, INSEAD (2001-2009).
Aree di interesse scientifico
Relazioni Interorganizzative, Status, Reti Sociali, Cambiamento Organizzativo
Pubblicazioni
PUBBLICAZIONI SELEZIONATE
- A Piazza, F Castellucci, Status in Organization and Management Theory, Journal of Management, in press
- G Ertug, F Castellucci, Getting what you need: how reputation and status affect team performance, hiring, and salaries in the NBA, Academy of Management Journal, 2013
- F Castellucci, M Padula, G Pica, The age-productivity gradient: evidence from a sample of F1 drivers, Labour Economics ,2011
- F Castellucci, G Ertug, What's in it for them? Advantages of Higher-Status Partners in Exchange Relationships, The Academy of Management Journal, 2010
- Podolny J.M., Castellucci F., 1999, Choosing Ties from the Inside of a Prism: Egocentric Uncertainty and Status in Venture Capital Markets, In Roger Th.A.J. Leenders and Shaul M. Gabbay (Eds.) Corporate Social Capital and Liability, Kluver Academic Press.