ANTONIO MARRA
Personal page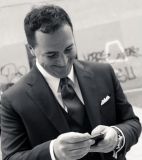 Areas of interest
Teaching: Financial Accounting, Financial Statement Analysis, Auditing, Consolidated Financial Statements.
Research: Links between Corporate Governance and Firm Performance, Earnings Management, Auditing and Related Issues.
Education
Ph.D. in Business Administration (with Distinction), Università degli Studi di Pavia – Italy.
Econometrics Course, LSE London School of Economics - London, United Kingdom
M.Res (Master in Research) in Accounting and Financial Management Lancaster University - United Kingdom
M.Sc in Corporate Tax Law - SDA Bocconi - School of Management- Milan, Italy
Degree in Business Administration and Law (CLELI), Università Bocconi - Milan - Italy
Administrative duties, current positions and positions hed
Member of the Accounting Department Executive Committee.
Member of the MSc in Accounting, Finance and Control Academic Committee.
Current Positions and Positions Held
Assistant Professor, Università Bocconi, Milano, Italy
Visiting Professor, Tippie College of Business, University of IOWA, IOWA, USA
Assistant Professor, MISB Bocconi – School of Management, MUMBAI, India
Visiting Professor, Zicklin School of Business and CUNY Baruch College, New York, New York, USA
Campus Abroad, Queensland University, Brisbane, Australia
Campus Abroad, MC Gill University, Montreal, Canada
Modificato il 12/11/2016