GIMEDE GIGANTE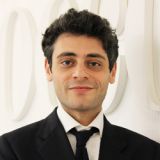 Lecturer
Dipartimento di Finanza

Insegnamenti a.a. 2021/2022
10074

FINANCIAL MARKETS AND INSTITUTIONS
11063

INTERNATIONAL FINANCE
11116

INVESTMENT BANKING
11326

CORPORATE FINANCE
20131
INVESTMENT BANKING
20156
INTERNATIONAL FINANCE
30006
SISTEMA FINANZIARIO / FINANCIAL MARKETS AND INSTITUTIONS
30151
PRINCIPLES OF INTERNATIONAL FINANCE
30390
EQUITY AND VENTURE CAPITAL FINANCING
30502
FINANCE LAB
Note biografiche
Nato il 10 Dicembre 1980, sposato con due figlie. Dopo la laurea in Economia Aziendale presso l'Università Bocconi di Milano, consegue un dottorato di Ricerca in Banking & Finance e un master di International Teaching Program presso la SDA Bocconi di Milano. Ha svolto attività di ricerca post dottorato prima presso il Salomon Center for the Study of Financial Institutions alla New York University-Stern e poi presso la facoltà di Economia della Columbia Business School. E' dottore commercialista e revisore contabile iscritto nel registro tenuto dal Ministero dell'Economia e delle Finanze (MEF).
Curriculum Accademico
Dal 2019 è Academic Director della Summer School dell' Università Bocconi
Dal 2012 è Assistant Director del Corso di Laurea in Economia e Finanza (CLEF) dell'Università Bocconi.
Dal 2017 è Lecturer del Dipartimento di Finanza in Bocconi e responsabile dell'insegnamento obbligatorio BIEF, Principles of International Finance. Nel periodo 2009-2012 è stato assegnista di ricerca MIUR/SECS-P/11 e dal 2012 professore a contratto di Sistemi Finanziari e International Finance presso l'Università Bocconi di Milano. E' membro della Research Unit di "Investment Banking & Structured Finance" del Baffi-Carefin (Centre For Applied Research on International Markets, Banking, Finance and Regulation). Dal 2014 è docente di Investment Banking presso la MISB Bocconi di Mumbai (India). Dal 2015 è docente di Finance Lab presso la Summer School dell' Università Bocconi. Dal 2016 insegna Corporate Finance presso la Fudan University (Shanghai-China) nell'ambito del Fudan-Bocconi Double Degree in International Management (DDIM) Program.
E' vincitore di premi per l'eccellenza nella didattica presso l'Università Bocconi (2015 e 2016).
Aree di interesse scientifico
Ha interessi scientifici prevalentemente nell'ambito dei mercati, degli intermediari finanziari e della finanza aziendale. E' autore di diversi articoli e capitoli di libri nazionali e internazionali. E' stato coinvolto in numerose attività didattiche e di ricerca inerenti l'analisi e presentazioni di casi aziendali su valutazione di operazioni di capital markets e corporate finance. Si interessa anche di Private Equity, Project Financing e Public Private Partnerships. E' consulente tecnico del Giudice di Milano per analisi e studi su materie di valutazione d'azienda e intermediari finanziari.
Pubblicazioni
PUBBLICAZIONI SELEZIONATE
(*) Caselli S., Chiarella C., Gatti S., Gigante G. (2017)
CAREFIN Working Paper "Does Investing in Italian Capital Markets Pay? The Past Decade Perspective" MILAN, January 2017
(*) Caselli S., Chiarella C., Gatti S., Gigante G. (2016)
CAREFIN Working Paper "Benchmarking the UK Market: A way to create an efficient and effective Capital Market in Italy?" MILAN, January 2016
(*) Caselli S, Gatti S., Gigante G. & A. Conso (2016)
CAREFIN Working Paper "Banche di Credito Cooperativo ed Offerta di Credito in Italia" MILAN, October 2016
(*) Corbetta. G., Gigante G.(2015)
"European Way to Sovereign Funds: a Comparison among CDP, KfW and CDC ", in Public Private Partnerships for infrastructure and enterprise funding. Principles, Practices and Perspectives ,2015, Palgrave Macmillan, Studies in Banking and Financial Institutions., New York, 2015
(*) Caselli S., Chiarella C., Gatti S., Gigante G. (2015)
CAREFIN Working Paper "Capital Markets and investors in Italian securities: Is there a communication breakdown?" MILAN, January 2015
(*) Arcuri M., Corbetta G., Alessio Galimi A., Gigante G., Vecchi V. and Vecchione S. (2014)
CAREFIN Working Paper "Report on Cassa Depositi e Prestiti (CDP)" MILAN, January 2014
(*) Arcuri M., Corbetta G., Alessio Galimi A., Gigante G., Vecchi V. and Vecchione S. (2014)
CAREFIN Working Paper "Report on Kreditanstalt für Wiederaufbau (KfW)" MILAN, January 2014
(*) Arcuri M., Corbetta G., Alessio Galimi A., Gigante G., Vecchi V. and Vecchione S. (2014)
CAREFIN Working Paper "Report on Caisse des Dépôts et Consignations (CDC)" MILAN, June 2014
(*) Cerri A., Gigante G. (2013)
"Estimating the Probability of Financial Distress in European Markets: Prediction Models and Empirical Applications", in "Bank Performance, Risk and Securitization". Palgrave Macmillan, Studies in Banking and Financial Institutions., vol. 1, p. 37-53, BASINGSTOKE: Palgrave MacMillan., ISBN: 978-1137332080
(*) Caselli S., Chiarella C., Gatti S., Gigante G. (2013)
CAREFIN Working Paper "The Capital Markets for Italian Companies: a Resource to Relaunch the Country and Renew Growth" MILAN, November 2013
(*) Gigante G. (2013)
"Intellectual Capital and Bank Performance in Europe", in "Accounting and Finance Research", Vol. 2, No. 4; 2013 ISSN 1927-5986
(*) Gigante G. Previati D. (2012)
"Intellectual Capital and Bank Performance: Key Issues Related to the Intellectual Capital Disclosure" in "Financial systems in troubled waters: Information, strategies and governance to enhance performances in risky times", NEW YORK, Routledge 2012, ISBN 978-0-415-62879-2
(*) Caratelli M., Fiordelisi F., Gigante G. Mare D., Ricci O., Stantella S. (2011)
"Il Ruolo del Factoring nell'Economia Italiana," in "FACT&NEWS", ONLINE, vol. 1, p. 64-89, ISSN: 1972-3970
(*) Gigante G., Previati D. (2011)
"A Knowledge Oriented Approach to the Investigation of Italian Banks Performances", International Journal of Economics and Finance. Vol. 3, No. 5, October 2011, ISSN 1916-971X
(*) Gigante G., Previati D. (2010)
"The Performance of Intellectual Capital and Banking: some Empirical Evidence from the European Banking System." In "New issues in financial markets and institutions" NEW YORK, Palgrave Macmillan, Studies in Banking and Financial Institutions, September 2010, ISBN: 9780230278103
(*) Gigante G. (2009)
"Gli Strumenti di Raccolta nelle Banche" in Nadotti L., Porzio C., Previati D. (a cura di), "Economia degli intermediari finanziari", MILAN, McGraw-Hill 2009, ISBN: 9788838666230