TOM GEORGES SCHMITZ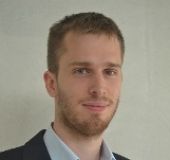 Assistant Professor
Dipartimento di Economia

Note biografiche
PhD in Economics, Universitat Pompeu Fabra, 2015
Curriculum Accademico
Assistant Professor of Economics, Università Bocconi.
Aree di interesse scientifico
Firm Dynamics, Macroeconomics, International Trade.
Pubblicazioni
PUBBLICAZIONI SELEZIONATE
The IT Revolution and Southern Europe's Two Lost Decades (with Fabiano Schivardi), Journal of the European Economic Association, Forthcoming.
Macroeconomic Volatilities and the Labor Market: First Results from the Euro Experiment (with Christian Merkl), European Journal of Political Economy, Elsevier, vol. 27(1), pages 44-60, March 2011.