JULIEN SAUVAGNAT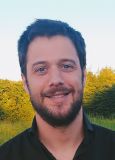 Professore Associato
Dipartimento di Finanza

Insegnamenti a.a. 2022/2023
30017
FINANZA AZIENDALE / CORPORATE FINANCE
Note biografiche
Laureato presso HEC Paris (2007). Ph.D. presso Toulouse School of Economics (2012).
Curriculum Accademico
Aree di interesse scientifico
Finance, Applied Microeconomics.
Pubblicazioni
PUBBLICAZIONI SELEZIONATE
"Import Competition and Household Leverage", with J.N. Barrot, E.Loualiche and M. Plosser, Journal of Finance, Forthcoming.
"Electoral Competition, Voter Bias and Women in Politics", with T. Le Barbanchon, Journal of the European Economic Association, Forthcoming.
"Sectoral Effects of Social Distancing", with J.N. Barrot and B. Grassi, American Economic Association P&P, Forthcoming.
"Production Networks and Economic Policy", with B. Grassi, Oxford Review of Economic Policy, 35(4), 638-677, 2019.
"The Globalization Risk Premium", with J.N. Barrot and E.Loualiche, Journal of Finance, 74(5), 2391-2439, 2019.
"A Mind is a Difficult Thing to Change: Confirmatory Bias in Financial Markets", with S. Pouget and S. Villeneuve, Review of Financial Studies, 30(6), 2066-2109, 2017.
"Input Specificity and the Propagation of Shocks in Production Networks", with J.N. Barrot, Quarterly Journal of Economics, 131(3), 1543-1592, 2016.
"Prosecution and Leniency Programs: The Role of Bluffing in Opening Investigations", Journal of Industrial Economics, 63(2), 313-338, 2015.
"CEO Pay and Firm Size: an Update after the Crisis", with X. Gabaix and A. Landier, Economic Journal 124, F40-F59, 2014.
"Are Leniency Programs too Generous?", Economics Letters 123(3), 323-326, 2014.
"Bottom-up Corporate Governance", with A. Landier, D. Sraer and D. Thesmar, Review of Finance 17(1), 161-201, 2013.