STEFANO ROSSI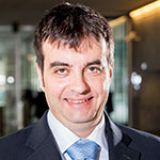 Professore Ordinario
Dipartimento di Finanza

Insegnamenti a.a. 2022/2023
20127
FINANZA AZIENDALE (Introduzione alle valutazioni) / CORPORATE FINANCE (Business valuation)
40214

FINANCE 1
Note biografiche
Stefano Rossi è Professore Ordinario nel Dipartimento di Finanza dell'Università Bocconi dove detiene la Generali Chair in Insurance and Risk Management, un Fellow dell'IGIER, un Research Affiliate del Centre for Economic Policy Research (CEPR), un Research Associate dello European Corporate Governance Institute (ECGI), un Executive Editor del Journal of Law, Finance, and Accounting, e un Associate Editor of European Financial Management.
Curriculum Accademico
Prima di iniziare in Bocconi nel 2017 Stefano Rossi ha insegnato alla Krannert School of Management della Purdue University, alla Stockholm School of Economics, alla Johnson School of Management della Cornell University, e all'Imperial College Business School. Ha conseguito un PhD in Finance alla London Business School, un BA e un MSc in Economics in Bocconi, ed è stato visiting fellow alla Harvard University.
Aree di interesse scientifico
I suoi interessi di ricerca includono law and finance, corporate governance, bankruptcy and financial distress, debt financing, international finance, sovereign borrowing and crises, financing of innovations, and market mis-pricings due to institutional frictions and strategic trading.
Pubblicazioni
PUBBLICAZIONI SELEZIONATE
Stefano Rossi ha pubblicato nei maggiori giornali accademici internazionali, tra cui il Journal of Finance, il Journal of Financial Economics, la Review of Financial Studies, il Journal of Monetary Economics e la Review of Finance, e il suo lavoro è stato menzionato e riportato in giornali come il Financial Times e l'Economist. La sua ricerca sull'evoluzione di proprietà e controllo (con J. Franks e C. Mayer) ha vinto due prestigiosi premi internazionali come Best Paper dal European Corporate Governance institute. Per maggiori dettagli, si veda la sua pagina personale.