VALERIA GIACOMIN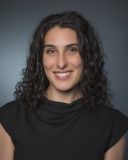 Assistant Professor
Dipartimento di Scienze sociali e politiche

Insegnamenti a.a. 2022/2023
Note biografiche
Valeria Giacomin is Assistant Professor at the Department of Social and Political Sciences at Bocconi University.
Previously she held post-doctoral fellowships at Harvard Business School and Marshall Business School (USC). She received her PhD from Copenhagen Business School with a thesis on the development of the palm oil cluster in Southeast Asia.
Her research focuses on global history of commodity markets in Southeast Asia; clusters in historical perspective; and business history of emerging markets since the 19th century. Recently Valeria started new projects on historical entrepreneurship and entrepreneurial ecosystems.
Curriculum Accademico
Assistant Professor, Bocconi University
Post-doctoral Fellow, Greif Center, University of Southern California
Newcomen Postdoctoral Fellow, Harvard Business School
PhD in Organization and Management, Copenhagen Business School
MA Southeast Asian Studies at SOAS, University of London
MSc DDIM International Business Bocconi University / Fudan University
BSc Economics & Finance (CLEF) Bocconi University
Awards and Honors
Aree di interesse scientifico
Business and Global History; Historical Entrepreneurship; Economic Geography
Pubblicazioni
PUBBLICAZIONI SELEZIONATE
Peer reviewed articles
Giacomin,V., Jones, G., and Salvaj E. (2020), Business Leaders and Investment in Education: Evidence from Emerging Markets since the 1960s, Business History, forthcoming. https://doi.org/10.1080/00076791.2019.1675641
Giacomin, V., (2018). The transformation of the global palm oil cluster: dynamics of cluster competition between Africa and Southeast Asia (c. 1900-1970), Journal of Global History, 13(3): 374-398. https://doi.org/10.1017/S1740022818000207
Giacomin, V., (2018). The emergence of an export cluster: Traders and palm oil in early 20th century Southeast Asia, Enterprise and Society,19(2): 272-308. https://doi.org/10.1017/eso.2017.10
Chapters in edited volumes
Giacomin, V., (2019). Clusters as spaces for global integration. In (eds.) da Silva Lopes T., Lubinski C., & Tworek, H., The RoutledgeCompanion to the Makers of Global Business, 264-278, Routledge.
Giacomin, V., (2019). Singapore: Global City ante litteram in early 20th century Southeast Asia. In (eds.) Webster,T., & White, N.J., Singapore - Two Hundred Years of the Lion City, 61-79, Routledge.