GUIDO GIUSEPPE CORBETTA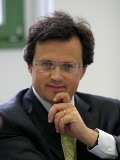 Professore Ordinario
Dipartimento di Management e Tecnologia

Insegnamenti a.a. 2022/2023
11909

STRATEGIC MANAGEMENT IN FAMILY BUSINESSES
20123
SISTEMI DI CORPORATE GOVERNANCE / CORPORATE GOVERNANCE
20480
PERFORMANCE MEASUREMENT E CORPORATE STRATEGY - MODULO II (CORPORATE STRATEGY) / PERFORMANCE MEASUREMENT AND CORPORATE STRATEGY - MODULE II (CORPORATE STRATEGY)
20525
STRATEGIC MANAGEMENT IN FAMILY BUSINESSES
Note biografiche
Nato il 4 maggio 1959. Laureato in Economia aziendale presso l'Università Bocconi. International Teachers Programme presso l'HEC-ISA of Jouy en Josas 1985. PhD in Management Università Bocconi, 1991; ISP Loyola University of Chicago (USA), 1999.
Curriculum Accademico
Professore ordinario di Strategia aziendale e titolare della cattedra AIdAF - EY di Strategia delle aziende familiari. Docente senior dell'Area Strategia della SDA Bocconi. Membro del Comitato editoriale di Journal of Management Studies e del research applied board di Family Business Review. Fellow of IFERA (International Family Enterprise Research Academy) e ICRIOS (The Invernizzi Center for Research on Innovation, Organization, Strategy and Entrepreneurship)
Aree di interesse scientifico
Strategia aziendale. Imprese familiari e medie imprese. Imprese nei settori fashion e design based.
Pubblicazioni
PUBBLICAZIONI SELEZIONATE
"Ownership Similarity in M&A Target Selection" (con E. Bettinazzi, M. Amore, D. Miller), Strategic Organization, conditionally accepted, 2018.
"For Love and Money: Marital Leadership in Family Firms" (con M. Amore, D. Miller, I. Le Breton-Miller), Journal of Corporate Finance, 46c (2017), pp. 461-476.
"Institutional Logics, Family Firm Governance and Performance" (con A. Minichilli, D. Miller, I. Le Breton-Miller, M. Amore), Journal of Business Venturing, 32 (2017), pp. 674-693
"An Institution-based View of Large Family Firms: A Recap and Overview" (con M. W. Peng, C. Vlas, W. Sun, A. Minichilli), Entrepreneurship Theory and Practice, 2017
"CEO Succession Mechanisms, Organizational Context, and Performance: A Socio-Emotional Wealth Perspective on Family Controlled Firms" (con A. Minichilli, M. Amore e M. Nordqvist), Journal of Management Studies, November 2014, pp. 1153-1179.
"When do Non-Family CEOs Outperform in Family Firms ?" (con D. Miller, I. Le Breton-Miller, A. Minichilli, D. Pittino), Agency, and Behavioral Agency Perspective, Journal of Management Studies, June, 2014, pp. 547-572.
"Strategic Content and Process in Family Business" (con C. Salvato), (a cura di) L. Melin, M. Nordqvist, P. Sharma, The Sage Handbook of Family Business Studies, Sage Publications, 2014, pp. 295-320.
"Preserving Socioemotional Wealth in Family Firms: Asset or Liability ? The Moderating Role of Social Context" (con L. Naldi, C. Cennamo, L. Gomex-Mejia), Entepreneurship Theory and Practice, November 2013, pp. 1341-1360.
"Transitional leadership of advisors as a facilitator of successors' leadership construction" (con C. Salvato), Family Business Review, n. 3, 2013, pp. 235-255.
"Is family leadership always beneficial ?" (con D. Miller e A. Minichilli), Strategic Management Journal, vol. 33, 2013, pp. 553-571.
"Strategies for longevity in family firms. A European perspective" (con C. Salvato), Palgrave Macmillan, Hampshire, 2012.
"How do Managerial Successions Shape Corporate Financing Policies in Family Firms" (con A. Minichilli e M. Amore), Journal of Corporate Finance, volume 17, issue 4, September 2011, pp. 1016-1027;
"Prefazione e commenti a R. Rosso" Be Stupid for Successful Living, Rizzoli, Milano, 2011;
"Le aziende familiari. Strategie per il lungo periodo", Egea, Milano, 2010;
"Top Management Teams in Family Controlled Companies: 'Familiness', 'Faultlines' and the Impact on Financial Performance" (con A. Minichilli e I.C. Macmillan), in Journal of Management Studies, Vol. 47, n. 2, 2010, pp. 205-222;
"Self-serving or self-actualizing? Models of man and agency costs in different types of family firms" (con C. Salvato) in Entrepreneurship Theory and Practice, n. 4, 2004, pp. 355-362;