FRANCESCO CORIELLI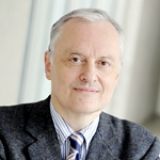 Professore Associato
Dipartimento di Finanza

Insegnamenti a.a. 2022/2023
11927

MACHINE LEARNING IN FINANCE: AN OVERVIEW
20191
FINANCIAL ECONOMETRICS AND EMPIRICAL FINANCE - MODULE 1
40406

ADVANCED ECONOMETRICS 4
Note biografiche
Nato il 20 maggio 1959. Laureato in Discipline economiche e sociali presso l'Università Bocconi.
Curriculum Accademico
Professore associato confermato di Statistica presso il dipartimento di Finanza (gia' presso l'Istituto di Metodi Quantitativi). Borsista presso l'Istituto di Metodi Quantitativi 1984/1989. Ricercatore di Statistica metodologica dal 1989 (confermato nel 1992). Visiting a più riprese presso la London Business School e l'Imperial College of Arts and Sciences, London.
Aree di interesse scientifico
Statistica matematica. Econometrica. Finanza matematica. L'attivita' scientifica corrente segue quattro filoni: analisi empiriche di problemi corporate finance; definizione e studio della qualita' statistica per misure di performance nel campo della gestione finanziaria; applicaziioni nel campo del risk management con particolare attenzione a problemi di rischio di modello; studio della robustezza dei modelli per la valutazione di derivati.
Pubblicazioni
PUBBLICAZIONI SELEZIONATE

S. Gatti, F. Corielli, S. Caselli, V. Buscaino (2012). Project Finance Collateralised Debt Obligations: an Empirical Analysis of Spread Determinants . EUROPEAN FINANCIAL MANAGEMENT, vol. Vol. 18 , p. 950-969, ISSN: 1354-7798, doi: 10.1111/j.1468-036X.2010.00560.x

F. Corielli, S. Gatti, A. Steffanoni (2010). Risk Shifting Through Nonfinancial Contracts. Effects on Loan Spreads and Capital Structure of Project Finance Deals. JOURNAL OF MONEY, CREDIT, AND BANKING, vol. 42, p. 1295-1320, ISSN: 0022-2879

Francesco Corielli, Paolo Foschi, Andrea Pascucci (2010). Parametrix approximation of diffusion transition densities. SIAM JOURNAL ON FINANCIAL MATHEMATICS, vol. 1, p. 833-867, ISSN: 1945-497X

F. CORIELLI, MARCELLINO M. (2006). Factor based index tracking. JOURNAL OF BANKING & FINANCE, vol. 30, p. 2215-2233, ISSN: 0378-4266

F. CORIELLI (2006). Hedging with Energy. MATHEMATICAL FINANCE, vol. 16-3, p. 495-517, ISSN: 0960-1627

CORIELLI F (2006). Model error analysis methods. STATISTICA APPLICATA, vol. 4/2006, p. 641-659, ISSN: 1125-1964

F. CORIELLI, BURASCHI A. (2005). Risk management implications of time inconsistency: model updating and recalibration of no-arbitrage models. JOURNAL OF BANKING & FINANCE, vol. 29, p. 2883-2907, ISSN: 0378-4266

CORIELLI F, MEUCCI A. (2004). "Pitfalls in linear models for style analysis". STATISTICAL METHODS & APPLICATIONS, vol. 13.1, p. 103-127, ISSN: 1618-2510

Francesco Corielli (1997). "LAWS OF LARGE NUMBERS" IN CONTINUUM ECONOMIES. In: Pierpaolo Battigalli, Aldo Montesano. Decisions, Games and Markets. p. 191-207, SPRINGER, ISBN: 9780792398417

Francesco Corielli (1995). A note on the Decidability of de Finetti's Coherence. THEORY AND DECISION, vol. 38, p. 121-129, ISSN: 0040-5833