SILVIA BAGDADLI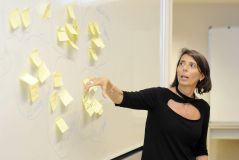 Professore Associato
Dipartimento di Management e Tecnologia

Insegnamenti a.a. 2022/2023
10113

LABORATORI
10139

ORGANIZZAZIONE AZIENDALE
10174

SVILUPPO E CARRIERE
10187

VALUTAZIONE E RICOMPENSA
10324

PEOPLE MANAGEMENT
12013

PEOPLE STRATEGY AND HR STRATEGY
12155

TALENT MANAGEMENT AND CAREER MANAGEMENT
12156

CRAFTING HR STRATEGY FROM BUSINESS STRATEGY
20159
SEMINARI PER LO SVILUPPO DI ABILITA' COMPORTAMENTALI / BEHAVIOURAL SKILLS SEMINARS
20162
GESTIONE DELLE RISORSE UMANE / HUMAN RESOURCE MANAGEMENT
20482
BUSINESS GAME (per Organizzazione e gestione delle risorse umane)
Note biografiche
Curriculum Accademico
Associate Professor of Business Organization and HRM. From 2021, Director of the Specialized Master of Science in Organization and Human Resources Management (MasterOP) and previously from 2003 to 2008. At SDA Bocconi School of Management, I am Professor of the Knowledge Group Organization, Leadership and Human Resources and I've been the Director of the Executive Master in Strategic Human Resource Management from 2008 to 2014. I am an ICF Professional Certified Coach (PCC).
Aree di interesse scientifico
My research focuses on the areas of Career, Talent and Human Resource Management where I am interested in the intersection of the individual (Micro) and the institutional and organizational perspective (Macro) at the international (comparative) level. My research is mainly interdisciplinary with perspectives ranging from psychology to sociology and organization.
Pubblicazioni
PUBBLICAZIONI SELEZIONATE
Bagdadli, Silvia; Gianecchini, Martina; Andresen, Maike; Cotton, Rick; Kase, Robert; Lazarova, Mila; Smale, Adam; Bosak, Janine; Briscoe, Jon P.; Chudzikowski, Katharina; Dello Russo, Silvia; Reichel, Astrid
Human capital development practices and career success: the moderating role of country development and income inequality
JOURNAL OF ORGANIZATIONAL BEHAVIOR, 2021
Bagdadli, Silvia; Gianecchini, Martina
HRM/organizational career management systems and practices
Routledge companion to career studies, 2020
Dello Russo, Silvia; Parry, Emma; Bosak, Janine; Andresen, Maike; Apospori, Eleni; Bagdadli, Silvia; Chudzikowski, Katharina; Dickmann, Michael; Ferencikova, Sonia; Gianecchini, Martina; Hall, Douglas Tim; Kaše, Robert; Lazarova, Mila; Reichel, Astrid
Still feeling employable with growing age? Exploring the moderating effects of developmental HR practices and country-level unemployment rates in the age – employability relationship
THE INTERNATIONAL JOURNAL OF HUMAN RESOURCE MANAGEMENT, 2020
Bagdadli, Silvia; Gianecchini, Martina
Organizational career management practices and objective career success: a systematic review and framework
HUMAN RESOURCE MANAGEMENT REVIEW, 2019
De Stefano, Federica; Bagdadli, Silvia; Camuffo, Arnaldo
The HR role in corporate social responsibility and sustainability: a boundary-shifting literature review
HUMAN RESOURCE MANAGEMENT, 2018
Briscoe, Jon P.; Kase, Robert; Dries, Nicky; Dysvik, Anders; Unite, Julie A.; Adeleye, Ifedabo; Andresen, Maike; Apospori, Eleni; Babalola, Olusegun; Bagdadli, Silvia; Cakmak-Otluoglu, Ovgu K.; Casado, Tania; Cerdin, Jean-Luc; Cha, Jong-Seok; Chudzikowski, Katharina; Dello Russo, Silvia; Eggenhofer-Rehart, Petra; Fei, Zhangfeng; Gianecchini, Martina; Gubler, Martin; Hall, Dougla T.; Imose, Ruth; Ismail, Ida Rosnita.; Khapova, Svetlana; Kim, Najung.; Lehmann, Philp; Lysova, Evgenia; Madero, Sergio; Mandel, Debbie; Mayrhofer, Wolfgang; Milikic, Biljana Bogicevic; Mishra, Sushanta; Naito, Chikae; Nikodijevic, Ana D.; Reichel, Astrid; Saher, Noreen; Saxena, Richa; Schleicher, Nanni; Schramm, Florian; Shen, Yan; Smale, Adam; Supangco, Vivien; Suzanne, Pamela; Taniguchi, Mami; Verbruggen, Marijke; Zikic, Jelena
Here, there, & everywhere: development and validation of a cross-culturally representative measure of subjective career success
JOURNAL OF VOCATIONAL BEHAVIOR, 2021