TITO MICHELE BOERI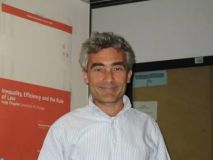 Professore Ordinario
Dipartimento di Economia

Insegnamenti a.a. 2022/2023
20152
ECONOMIA DEL LAVORO E DELLE RISORSE UMANE
20294
LABOUR ECONOMICS
30147
THE ECONOMICS OF IMPERFECT LABOUR MARKETS
Note biografiche
Nato il 3 agosto 1958. Laurea in Economia all'Università Bocconi. Phd in Economics presso la New York University.
Curriculum Accademico
Tito Boeri è professore di economia presso l'Università Bocconi di Milano (dove era stato anche Prorettore per la ricerca fino all'autunno 2014) e Senior Visiting Professor alla London School of Economics (dove è stato Centennial Professor). E' stato senior economist all'Organizzazione per la Cooperazione e lo Sviluppo Economico (OCSE), consulente del Fondo Monetario Internazionale, della Banca Mondiale, della Commissione Europea, dell'Ufficio Internazionale del Lavoro oltre che del Governo italiano. Dal marzo 2015 al febbraio 2019 ha ricoperto la carica di Presidente dell'Istituto Nazionale di Previdenza Sociale (INPS). E' Consigliere Scientifico della Fondazione Rodolfo Debenedetti (www.frdb.org) di cui è stato Direttore fin dalla sua costituzione nel 1998. E' fellow della European Economic Association e della European Association of Labour Economists. E' inoltre research fellow dell'Innocenzo Gasparini Institute for Economic Research (IGIER Bocconi), del CEPR (Centre for Economic Policy Research), del Centre for Economic Performance di Londra, dell' IZA (Institut zur Zukunft der Arbeit) di Bonn e del Netspar (Network for the Study of Pension and Retirement) di Tillburg. E' stato editorialista del Sole24ore, de La Stampa e de La Repubblica e ha collaborato con quotidiani esteri quali il Financial Times e Le Monde. E' tra i fondatori del sito di informazione economica www.lavoce.info e del sito federato in lingua inglese www.voxeu.org. E' direttore scientifico del Festival dell'Economia di Trento.
Aree di interesse scientifico
labour economics, income distribution, political economics of redistributive institutions
Pubblicazioni
PUBBLICAZIONI SELEZIONATE
Boeri, T., Lucifora, C., Murphy, K. (2013) (a cura di), Executive Remuneration and Employee Performance Related Pay, A Transatlantic Perspective, Oxford University Press. Boeri, T., Bruecker, H., Docquier, F. e Rapoport, H. (a cura di), Brain Drain and Brain Gain, Oxford University Press, in corso di pubblicazione. Boeri, T., Merlo, A. e Prat, A.(a cura di) (2010), The Ruling Class, Oxford University Press, O xford, tradotto in italiano da Università Bocconi Editore. Boeri, T. (2010) "Institutional Reforms and Dualism in European Labor Markets", in Ashenfelter, O. e Card, D. (a cura di) Handbook of Labor Economics, 2010, Elsevier, pag. 1173-1236. Boeri, T. e J. van Ours (2008) The Economics of Imperfect Labour Markets, Princeton University Press, 1a edizione; 2a edizione nel 2013. Boeri, T., Garibaldi, P., Moen, E. (forthcoming) Financial Shocks and Labor: Facts and Theories, IMF Economic Review, forthcoming. Boeri, T. (2012), Setting the Minimum Wage, Labour Economics, Vol. 19(3), pp. 281-290. Boeri, T., Conde-Ruiz, I. and Galasso, V. (2012), "The Political Economy of Flexicurity", Journal of the European Economic Association, vol 10 (4), pp. 684-715. Boeri, T. and Bruecker, H. (2011), Short-time Work Benefits Revisited: some Lessons from the Great Recession, Economic Policy, Vol. 26, Nr. 68, pp. 697-765. Boeri, T. and Severgnini, B. (2011), "Match Rigging and the Career Concerns of Referees", Labour Economics, Volume 18(3), pp. 349-359. Boeri, T., Garibaldi, P. and Ribeiro, M. (2011), The Lighthouse Effect and Beyond, the Review of Income and Wealth, series 57, pp. 54-78.