CHIARA FUMAGALLI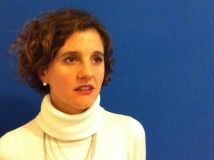 Professore Associato
Dipartimento di Economia

Insegnamenti a.a. 2022/2023
Note biografiche
Nata il 30 Novembre 1969. Laureata in Discipline economiche e sociali presso l'Università Bocconi nel 1994. Ha conseguito il PhD in Economics presso la Universitat Pompeu Fabra di Barcellona nel 2000.
Curriculum Accademico
Professore associato di Economia Politica. Direttore del corso di laurea in International Economics and Finance. Idoneità a Professore Ordinario (dall'Ottobre 2010). Assistant Professor, Università Bocconi (2002-2006). CEPR Research Affiliate. IGIER and CSEF Research Fellow. Fernand Braudel Fellow, European University Institute (2006/2007).
Aree di interesse scientifico
Politica della concorrenza. Finanza d'impresa. Imprese multinazionali.
Pubblicazioni
PUBBLICAZIONI SELEZIONATE
The deep-pocket effect of Internal Capital Markets" (con X. Boutin, G. Cestone, G. Pica e N. Serrano-Velarde), forthcoming in The Journal of Financial Economics; "Exclusive dealing: investment promotion may facilitate inefficient foreclosure" (con M. Motta e T. Ronde), forthcoming in The Journal of Industrial Economics; "Damages for exclusionary practices: a primer" (con J. Padilla e M. Polo), in Competition Law and the Enforcement of Art. 102, Oxford University Press, 2010; "On the anticompetitive effect of exclusive dealing when entry by merger is possible" (con M. Motta e L. Persson), The Journal of Industrial Economics (2009); "Buyers' miscoordination, entry, and downstream competition" (con M. Motta), The Economic Journal (2008); "Exclusive dealing and entry, when buyers compete" (con M.Motta), American Economic Review (2006) ; "The Strategic Impact of Resource Flexibility in Business Groups" (con G. Cestone), The Rand Journal of Economics (2005); "On the Welfare Effects of Competition for Foreign Direct Investments", in European Economic Review (2003).