ANDREA ORDANINI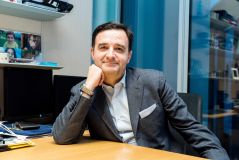 Professore Ordinario
Dipartimento di Marketing

Insegnamenti a.a. 2022/2023
11720

MARKETING SCIENCE
20723
MARKETING ANALYTICS
20809
TWO-SIDED MARKETS IN ENTERTAINMENT: THE CASE OF MUSIC
40181

MARKETING THEORY
Note biografiche
Nato il 2 settembre 1969
Professore Ordinario, Dipartimento di Marketing
BNP Paribas Endowed Chair in Marketing & Service Analytics
Curriculum Accademico
Laureato in Economia aziendale presso l'Università Bocconi (1993). Visting Researcher, London School of Economics and Political Sciences (1997). Dottorato in Economia Aziendale, Università di Pavia (1999). Summer Courses, MSc Social Science Data Analysis, University of Essex (2003 e 2005). Visting Professor, University of California at Irvine (2003 e 2006). Professore Associato di Marketing, Università Bocconi (2004-2011). Professore Ordinario di Marketing, Università Bocconi (2012 -). Direttore di Dipartimento (2013-2019). BNP Paribas Endowed Chair in Marketing & Service Analytics (2018 -).
Aree di interesse scientifico
Marketing dei serivizi. Consumo di prodotti culturali (musica). Innovazione di prodotto e di servizio.
Pubblicazioni
PUBBLICAZIONI SELEZIONATE
Tra le principali e le più recenti si ricordano:
Kim, C., Kannan, PK., Trusov M., Ordanini, A. (forthcoming). Modeling Dynamics in Crowdfunding. "Marketing Science"
Colm, L., Ordanini, A., Bornemann, T. (forthcoming). Dynamic Governance Matching in Solution Development. "Journal of Marketing"
Ordanini, A., Nunes, J.C., Nanni, A. (2018). The Featuring Phenomenon in Music: How Combining Artists of Different Genres Increases a Song's Popularity. "Marketing Letters", 29(4), 485-499. [Featured in Rolling Stones US, Feb 5th 2019]
Colm L., Ordanini, A. , Parasuraman A. (2017). When Service Customers Do Not Consume in Isolation: A Typology of Customer Copresence Influence Modes (CCIMs). "Journal of Service Research", forthcoming.
Valsesia F., Nunes, J.C., Ordanini, A. (2016). What Wins Awards Is Not Always What I Buy: How Creative Control Affects Authenticity and Thus Recognition (but Not Liking). "Journal of Consumer Research", 42(6), 897-914..
Ordanini, A., Nunes, J.C. (2016). From Fewer Blockbusters by More Superstars to More Blockbusters by Fewer Superstars: How Technological Innovation Has Impacted Convergence on the Music Chart. "International Journal of Research in Marketing", 33(2), 297-313.
Nunes, J.C., Ordanini, A., Valsesia F. (2015). The power of repetition: repetitive lyrics in a song increase processing fluency and drive market success. "Journal of Consumer Psychology", 25(2), 187-199
Ordanini, A., Parasuraman, A., Rubera G. (2014). When the Recipe Is More Important Than the Ingredients: A Qualitative Comparative Analysis (QCA) of Service Innovation Configurations. "Journal of Service Research", 17(2), 134-149
Ordanini A., Miceli L., Pizzetti M., Parasuraman A. (2011). Crowd-Funding: Transforming Customers into Investors through Innovative Service Platforms. "Journal of Service Management", 22(4), 443-470
Ordanini A., Parasuraman A. (2011). Service Innovation Viewed through a Service-Dominant-Logic Lens: A Conceptual Framework and Empirical Analysis. "Journal of Service Research", 14, 3-23 [premiato come Best Paper JSR 2011]