MYRIAM MARIANI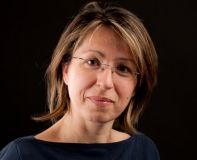 Professore Ordinario
Dipartimento di Management e Tecnologia

Insegnamenti a.a. 2022/2023
20133
INDUSTRY ANALYSIS (Economia dei settori industriali e dell'innovazione) / INDUSTRY ANALYSIS (Industrial economics and economics of innovation)
20451
FUNDAMENTALS OF INNOVATION AND INDUSTRIAL CHANGE
30012
STRATEGIA COMPETITIVA / BUSINESS STRATEGY
41016

INNOVATION
Note biografiche
Laurea in Economia e Commercio presso l'Università di Urbino. Dottorato di ricerca in economia e gestione delle imprese presso l'Università Politecnica delle Marche.
Curriculum Accademico
Professore ordinario di Economica Applicata. Direttore del corso di Laurea Specialistica EMIT (Economics and Management of Innovation and Technology) e research fellow ICRIOS (Università Bocconi). Post-doc fellow presso il MERIT, Università di Maastricht (2000-2002), visiting Scholar al SIEPR (Stanford Institute for Economic Policy Research) presso l'Università di Stanford (in 2003 and 2005) e presso l'Università Carnegie Mellon, Pittsburgh (2003). Visiting professor presso Boston University a.a. 2015-2016.
Aree di interesse scientifico
(1) i meccanismi attraverso i quali gli spillovers di conoscenza si sviluppano tra individui e imprese durante il processo innovativo, e come tali spillover contribuiscono a migliorare le performance innovative
(2) motivazioni sul lavoro, comportamento degli inventori e differenze salariali
(3) Donne in STEM: perchè la presenza delle donne nelle discipline STEM è inferiore a quella degli uomini? Quali processi regolano l'entrata e l'uscita delle donne da queste discipline e dalle professioni ad esse collegate? quali sono le differenze salariali e di produttività tra uomini e donne nei settori STEM e nelle professioni legate all'innovazione?
Pubblicazioni
PUBBLICAZIONI SELEZIONATE
La lista delle pubblicazioni è disponibile nella mia personal page
Pubblicazioni selezionate:
"Lost Marie Curies: Parental Impact on the Probability of Becoming an Inventor" Management Science (2022) published online on May, 20, 2022
"Trained to Lead: Evidence from Industrial Research" (with Luisa Gagliardi), Strategic Management Journal (2021)
"Firm Strategic Behavior and the Measurement of Knowledge Flows with Patent Citations" (with M. Corsino and S. Torrisi), Strategic Management Journal (2019) 40: 1040-1069
"Rewards for patents and inventor behaviors in industrial R&D" (with M. Giarratana and I. Weller), Academy of Management Journal (2018) 61: 264-292
"It's a Man's Job. Income and the Gender Gap in Industrial Research" (with K. Hoisl), Management Science (2017) 63(3): 766-790
"Used, blocking and sleeping patents: Empirical evidence from a large-scale inventor survey" (with S. Torrisi, A. Gambardella, P. Giuri, K. Hoisl, D. Harhoff), Research Policy (2016) 45(7): 1374-1385
"Learning to Be Edison: Inventors, Organizations, and Breakthrough Inventions" (with R. Conti and A. Gambardella), Organization Science (2014) 25(3): 833-849
"The relationship between knowledge sourcing and fear of imitation" (with M. Giarratana), Strategic Management Journal, (2014) 35(8): 1144-1163
"When distance does not matter: Inventors, education, and the locus of knowledge spillovers" (with P. Giuri), The Review of Economics and Statistics, (2013) 95(2): 449-463