ALBERTO DELL'ACQUA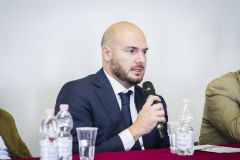 SDA Associate Professor of Practice
Dipartimento di Finanza

Insegnamenti a.a. 2021/2022
10398

CORPORATE VALUATION
10441

PRIVATE EQUITY & VENTURE CAPITAL
11697

CORPORATE FINANCE AND BUSINESS VALUATION
12037

ENTREPRENEURSHIP WEEK
20211
FINANCIAL MANAGEMENT E CORPORATE BANKING / FINANCIAL MANAGEMENT AND CORPORATE BANKING
Note biografiche
Nato a Milano il 16/09/1976.
Curriculum Accademico
Associate Professor of Practice, SDA Bocconi School of Management.
Direttore, Corporate Welfare Lab, SDA Bocconi School of Management.
Direttore, Master in Corporate Finance, SDA Bocconi School of Management (edizioni 16-17-18-19-20-21).
Professore di Financial Management & Corporate Banking, Master of Science in Management. Università L. Bocconi, Milano.
Pubblicazioni e esperienze professionali di dettaglio sono contenute nella mia pagina personale.
Aree di interesse scientifico
Finance
Corporate Finance
Private Equity & Venture Capital
Capital Markets
Fintech
Pubblicazioni
PUBBLICAZIONI SELEZIONATE
Principali articoli in riviste scientifiche internazionali peer-reviewed:
"Investor Protection and Value Creation in Cross-Border M&As by emerging economies", (with Etro L.L., Teti E.), Journal of International Financial Management and Accounting, Wiley & Sons, Eds, Vol. 29, Issue 1, 2018. (Impact factor: 1.833)
"The Impact of Board Independency, CEO Duality and CEO Fixed Compensation on M&A Performance", (with Etro L.L., Teti E.), Corporate Governance. International Journal of Business in Society, Emerald Insights Eds., Vol. 7, Issue 5, 2017. (Winner of the "Highly Commended on Emerald Literati Awards 2018").
"Relationship lending, credit market concentration and the cost of debt", (with Bonini S., Fungo M., Kysucky V.), International Review of Financial Analysis, Elsevier Eds, Vol. 45, pp. 172-179, 2016. (Impact factor: 5.373).
"Conference calls and volatility in the Post Reg-FD Era", (with Caselli S., Perrini F.), European Financial Management, Wiley & Sons Eds, 16:2, pp. 256-270, 2010. (Impact factor: 1.800).
Principali libri:
Startup Finance (con Shehata J.), Egea Milano, 2021.
Corporate Debt Management, Bocconi University Press, Milano, 2018.
Debt Management, Egea Milano, 2017.