GIULIA CAPPELLARO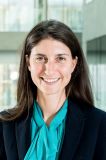 Assistant Professor
Dipartimento di Scienze sociali e politiche

Insegnamenti a.a. 2022/2023
30034
MANAGEMENT OF PUBLIC AND NOT FOR PROFIT ORGANIZATIONS
30193
MANAGEMENT OF INTERNATIONAL AND SUPRANATIONAL ORGANIZATIONS
30341
MANAGEMENT OF GOVERNMENT ORGANIZATIONS
40061

QUALITATIVE RESEARCH METHODS
Note biografiche
PhD in Management Studies, Cambridge Judge Business School, University of Cambridge.
MSc in Economics and Management of Public Administrations and International Institutions, Bocconi University.
BA in Economics and Management of Arts, Culture and Communication, Bocconi University.
Curriculum Accademico
Assistant Professor, Department of Social and Political Sciences, Bocconi University;
Affiliate, Center for Reseach on Health and Social Care Management
Affiliate, ASK Centre (Art, Science, and Knowledge)
Honorary Senior Research Associate, UCL School of Management
Awards and Honors:
Bocconi Research Excellence Award (2021, 2020)
Bocconi Innovation in Teaching Award (2018)
Center for Advanced Study in the Behavioral Sciences, Summer Institute on Organizations and their Effectiveness, Stanford University (2018)
ABCD (Above and Beyond the Call of Duty) Award - Organization and Management Theory Division (OMT), Academy of Management (2017, 2015, 2012);
European Group for Organization Studies (EGOS) Best Student Paper Award (2012);
Best Young Researcher Award, Italian Health Economics Association (2012);
Aree di interesse scientifico
Institutional and organizational change, healthcare organizations, professions, organizational innovation, business-government relations.
Pubblicazioni
PUBBLICAZIONI SELEZIONATE
Selected Publications
Cappellaro, G., Compagni A., & Vaara, E. forthcoming. Ambiguity in organization theory: from intrinsic to strategic perspectives, Cambridge, UK: Cambridge University Press, Cambridge Elements Series in Organization Theory
Blandford A., Abdi S., Aristidou A., Cappellaro G., Carmichael J., Hussain R., & Balaskas K., (2022). Protocol for a qualitative study to explore acceptability, barriers, and facilitators of the implementation of new teleophthalmology technologies between community optometry practices and hospital eye services. BMJ Open 12 (7)
Cappellaro G., Compagni A., & Vaara, E. Forthcoming. Social control agents and the evolving definition of wrongdoing: the case of the gray area around the Mafia. In C. Gabbioneta, M. Clemente & R. Greenwood. (Eds.) Wrongdoing, misconduct, and scandals - Research in the Sociology of Organizations. Emerald Publishing Limited: Bingley: UK
Cappellaro, G., Compagni A., & Vaara, E. (2021). Maintaining strategic ambiguity for protection: Struggles over opacity, equivocality and absurdity around the Sicilian Mafia. Academy of Management Journal, 64 (1)
Cappellaro, G., Tracey, P., & Greenwood, R. 2020. From logic acceptance to logic rejection: the process of destabilization in hybrid organizations. Organization Science, 31 (2)
Mele V., Esteve M., Lee S., Bel, G., Cappellaro G., Petrovski, N.,& Ospina S. 2020. Enhancing methodological reporting in Public Administration: The functional equivalents framework. The American Review of Public Administration, 50 (8)
Biygautane, M., Micelotta, E., Gabbioneta, C. and Cappellaro, G. 2020. In the Land of Sand and Oil: How the Macrofoundations of a Tribal Society Shape the Implementation of Public–Private Partnerships in, Steele, C.W.J., Hanigan, T.R., Glaser, V.L., Toubiana, M. and Gehman, J. (Ed.) Macrofoundations: Exploring the Institutionally Situated Nature of Activity (Research in the Sociology of Organizations), 68
Mele, V., & Cappellaro, G. 2018. Cross level coordination among international organizations: Dilemmas and practices. Public Administration, 96 (4)
Cappellaro, G. 2017. Ethnography in public management research: A systematic review and future directions. International Public Management Journal, 20 (1)
Cappellaro, G., & Ricci, A. 2017. PPPs in health and social services: a performance measurement perspective. Public Money & Management, 37 (6)
Cappellaro, G., Longo F. 2011 Institutional public-private partnerships for core health services: Evidence from Italy. BMC Health Services Research, 11
Cappellaro G., Ghislandi S., & Anessi-Pessina E. 2011. Diffusion of Medical Technology: the Role of Financing. Health Policy, 100 (1)
Marsilio, M, Cappellaro, G., & Cuccurullo, C 2011. Intellectual structure of PPPs research: a bibliometric analysis. Public Management Review, 13 (6)
Cappellaro, G, Fattore, G, & Torbica A. 2009. Funding of Health Technologies in decentralized system: A Comparison between Italy and Spain, Health Policy, 92 (2)