ALESSIA MELEGARO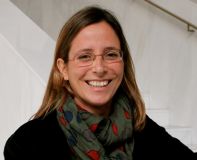 Professore Associato
Dipartimento di Scienze sociali e politiche

Insegnamenti a.a. 2021/2022
11759

ADVANCED ECONOMIC EVALUATION OF HEALTH CARE PROGRAMMES (MODELLING)
20599
SIMULATION AND MODELING
40340

SIMULATIONS AND AGENT-BASED MODELING
Note biografiche
PhD, Ecology & Epidemiology Group, Università di Warwick, UK (2008)
Research Scientist alla Health Protection Agency, Modelling and Economics Unit, Londra, UK (2000-2008)
Research Fellow alla London School of Hygene and Tropical Medicine, Londra, UK (1998-2000)
Laureata in Economia Politica presso l'Università Commerciale L. Bocconi (1998)
Curriculum Accademico
Assistant Professor in Demografia e Statistica Sociale, Dipartimento di Analisi delle Politiche e Management Pubblico
Research Fellow presso il DONDENA.
Aree di interesse scientifico
Metodi quantitativi per l'analisi delle misure di prevenzione del sistema sanitario. In particolare, utilizzo di modelli matematici per lo studio di processi epidemici e per valutare strategie di contenimento e/o controllo (eg. vaccinazioni, screening). Analisi costo-efficacia delle strategie adottabili dai sistemi sanitari. Studio degli effetti del cambiamento demografico sulle dinamiche sociali e sulla diffusione di malattie infettive nei paesi poveri.
Pubblicazioni
PUBBLICAZIONI SELEZIONATE
- Trentini F, Poletti P, Merler M, Melegaro A. Measles immunity gaps and the progress towards elimination: a multi-country modeling analysis. Lancet Infect Dis. 2017 Aug 11. pii: S1473-3099(17)30421-8. doi: 10.1016/S1473-3099(17)30421-8.
- Guzzetta G, Trentini F, Poletti P, Baldacchino F, Montarsi F, Capelli G, Rizzoli A.P., Rosà R, Merler S, Melegaro A. Effectiveness and economic assessment of routine larviciding for prevention of chikungunya and dengue in temperate urban settings in Europe. In press, PLoS Neglected Tropical Diseases, 2017.
- Del Fava E, Ioriatti C, Melegaro A. Cost-benefit analysis of controlling the spotted wing drosophila spread and infestation of soft fruits in Trentino, Northern Italy. Pest Manag Sci. 2017 May 19. doi: 10.1002/ps.4618
- Melegaro A, Del Fava E, Poletti P, Merler S, Nyamukapa C, Williams J, Gregson S, Manfredi P. Social Contact Structures and Time Use Patterns in the Manicaland Province of Zimbabwe. PLoS One. 2017 Jan 18;12(1):e0170459.
- Del Fava E, Piccarreta R, Gregson S, Melegaro A. Transition to Parenthood and HIV Infection in Rural Zimbabwe. PLoS One. 2016 Sep 29;11(9):e0163730.
- Xiao X, van Hoek AJ, Kenward MG, Melegaro A, Jit M. Clustering of contacts relevant to the spread of infectious disease. Epidemics. 2016 Dec;17:1-9.
- Santermans E, Goeyvaerts N, Melegaro A, Edmunds WJ, Faes C, Aerts M, Beutels P, Hens N. The social contact hypothesis under the assumption of endemic equilibrium: Elucidating the transmission potential of VZV in Europe. Epidemics. 2015 Jun;11:14-23.
- Tirani M, Meregaglia M, Melegaro A. Health and economic outcomes of introducing the new MenB vaccine (Bexsero) into the Italian routine infant immunisation programme. PLoS One. 2015 Apr 13;10(4):e0123383.
- Poletti P, Merler S, Ajelli M, Manfredi P, Munywoki PK, Nokes D, Melegaro A. Evaluating vaccination strategies for reducing infant respiratory syncytial virus infection in low-income settings. BMC Med. 2015 Mar 10;13:49.
- González-Lorenzo M, Piatti A, Coppola L, Gramegna M, Demicheli V, Melegaro A, Tirani M, Parmelli E, Auxilia F, Moja L; Vaccine Decision Group. Conceptual frameworks and key dimensions to support coverage decisions for vaccines. Vaccine. 2015 Feb 25;33(9):1206-17.
- Ajelli M, Poletti P, Melegaro A, Merler S. The role of different social contexts in shaping influenza transmission during the 2009 pandemic. Sci Rep. 2014 Nov 27;4:7218.
- De Cao E., Zagheni E., Manfredi P., Melegaro A. The relative importance of frequency of contacts and time of exposure for the spread of directly transmitted infections. Biostatistics, 2014 Jul;15(3):470-83.
- De Cao E., Melegaro A, Klok R, Postma M. Optimising Assessments of the Epidemiological Impact in the Netherlands of Paediatric Immunisation With 13-valent Pneumococcal Conjugate Vaccine Using Dynamic Transmission Modelling, PLoS One, 2014 Apr 2;9(4):e89415.
- Compagni A., Melegaro A. Tarricone R. Genetic screening for the predisposition to venous thromboembolism : a cost-utility analysis of clinical practice in the Italian healthcare system. Value in Health, 2013 Sep-Oct;16(6):909-21.
- Poletti P, Melegaro A, Ajelli M, Del Fava E, Guzzetta G, Faustini L, Scalia Tomba G, Lopalco P, Rizzo C, Merler S, Manfredi P. Perspectives on the impact of varicella immunization on herpes zoster. A model-based evaluation from three European countries. PLoS One. 2013 Apr 17;8(4):e60732.
- Meregaglia M, Ferrara L, Melegaro A, Demicheli V. Parent "cocoon" immunization to prevent pertussis-related hospitalization in infants: the case of Piemonte in Italy. Vaccine. 2013 Feb 6;31(8):1135-7.
- Van Hoek A.J., Melegaro A., Gay N., Bilcke J., Edmunds W.J. The cost-effectiveness of varicella and combined varicella and Herpes zoster vaccination programmes in the United Kingdom. Vaccine 2012 Feb 1;30(6):1225-34.
- Choi Y.H., Jit M., Gay N., Andrews N., Waight P.A., Melegaro A., George R., Miller E. 7-valent pneumococcal conjugate vaccination in England and Wales: is it still beneficial despite high levels of serotype replacement? PLoS One. 2011;6(10):e26190. Epub 2011 Oct 14.
- Melegaro, A.; Jit, M.; Gay, N.; Zagheni, E.; Edmunds, W. J. What types of contacts are important for the spread of infections? Using contact survey data to explore European mixing patterns. Epidemics, 3, 2011, 143:151
- van Hoek AJ, Melegaro A, Zagheni E, Edmunds WJ, Gay N. Modelling the impact of a combined varicella and zoster vaccination programme on the epidemiology of varicella zoster virus in England. Vaccine. 2011 Mar 16;29(13):2411-20.
- House T, Baguelin M, Van Hoek AJ, White PJ, Sadique Z, Eames K, Read JM, Hens N, Melegaro A, Edmunds WJ, Keeling MJ. Modelling the impact of local reactive school closures on critical care provision during an influenza pandemic. Proc Biol Sci. 2011 Feb 2.
- Melegaro A, Choi YH, George R, Edmunds WJ, Miller E, Gay NJ. Dynamic models of pneumococcal carriage and the impact of the Heptavalent Pneumococcal Conjugate Vaccine on invasive pneumococcal disease. BMC Infect Dis. 2010 Apr 8;10:90.
- van Hoek A J; Gay N; Melegaro A; Opstelten W; Edmunds WJ. Estimating the cost-effectiveness of vaccination against herpes zoster in England and Wales. Vaccine 2009;27(9):1454-67.
- Zagheni E, Billari FC, Manfredi P, Melegaro A, Mossong J, Edmunds WJ.Using time-use data to parameterize models for the spread of close-contact infectious diseases. Am J Epidemiol. 2008 Nov 1;168(9):1082-90. Epub 2008 Sep 18.
- Melegaro A, Choi Y, Pebody R, Gay N. Pneumococcal carriage in United Kingdom families: estimating serotype-specific transmission parameters from longitudinal data. Am J Epidemiol. 2007 Jul 15;166(2):228-35.
- Melegaro A, Edmunds WJ. A cost-effectiveness analysis of the 7-valent conjugate vaccine in England and Wales. Vaccine 2004;22: 4203-4214.
- Melegaro A, Gay NJ, Medley GF. Estimating the transmission parameters of pneumococcal carriage in household. Epidemiology and Infection 2004;132:433-41.
- Edmunds WJ, Brisson M, Melegaro A. The potential cost-effectiveness of acellular pertussis booster vaccination in England and Wales. Vaccine 2002; 20:1316-1330.