GABRIELE GAGLIANI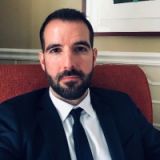 Lecturer
Dipartimento di Studi Giuridici

Insegnamenti a.a. 2021/2022
11366

TECHNOLOGY AND INTERNATIONAL ECONOMIC LAW
11988

PRIVATE LAW - FUNDAMENTALS B
11989

PRIVATE LAW - FUNDAMENTALS A
20143
INTELLECTUAL PROPERTY AND COMPETITION LAW
30058
COMPARATIVE BUSINESS AND EUROPEAN LAW
30428
INTRODUCTION TO THE LEGAL SYSTEM - MODULE 1
30431
LAW - MODULE 2 (PRIVATE LAW)
50205
SUMMER SCHOOL IN LAW
50242
COMPARATIVE PRIVATE LAW
50257
INTERNATIONAL BUSINESS AND DIGITAL LAW
Note biografiche
Doppio Dottorato di Ricerca (Ph.D.) alla École Normale Supérieure de Paris-Saclay a Parigi (Francia) (Avec les félicitations du jury) e all'Università degli Studi di Palermo (Valutazione: Ottimo).
Diploma del Helsinki Summer Seminar in International Law (With distinction), Erik Castrén Institute of International Law and Human Rights/University of Helsinki (Finlandia).
LL.M. in International Economic Law and Policy (IELPO LL.M./Università di Barcellona) (With distinction) (Spagna).
Laurea Triennale e Magistrale (Cum laude) in Giurisprudenza presso l'Università degli Studi di Milano, curriculum in diritto internazionale e dell'Unione Europea.
Curriculum Accademico
Lecturer all'Università Bocconi. Adjunct Professor alla Case Western Reserve University, Cleveland (Ohio, U.S.A.). Precedentemente Professore a Contratto e Coordinatore del LL.M. in Law of Internet Technology all'Università Commerciale L. Bocconi.
Ha insegnato e tenuto seminari in diverse università in Italia e all'estero in francese, inglese, italiano e spagnolo. È stato Visiting Scholar presso l'Université de Poitiers/CECOJI (Francia), il British Institute of International and Comparative Law (BIICL) (U.K.), il Master en Études Internationales – Développement Europe-Afrique of the Université Senghor de la Francophonie/University of Szeged.
È membro dell'American Society of International Law (ASIL), dello European Intellectual Property Teachers' Network (EIPTN), della Society of International Economic Law (SIEL). È Chair del EIPTN Working Group on Teaching IP and International Economic Law (Trade and Investment).
Aree di interesse scientifico
Diritto Internazionale ed Europeo dell'Economia (Commercio, Investimenti e Proprietà Intellettuale); Diritto Internazionale Pubblico; Risoluzione delle Controversie Internazionali.
Pubblicazioni
PUBBLICAZIONI SELEZIONATE
Cybersecurity, Technological Neutrality and International Trade Law, 23 Journal of International Economic Law 3 (2020).
The WIPO-WTO Relationship: Moving Beyond the Forum Shifting Theory?, International Organizations Law Review.
The ICJ and Cultural Heritage: International Cultural Heritage Law Through the Lenses of the World Court Jurisprudence, in A.-M. Carstens, E. Varner (Eds.), Intersections in International Cultural Heritage Law, (Oxford University Press).
Interpreting and Applying Article XX(f) of the GATT 1994: 'National Treasures' in International Trade Law, 2 Santander Art and Culture Law Review 5 (2019).
The Extraterritorial and Post-Discrimination Dimension of the SPS Agreement Put to the Test in Korea-Radionuclides (Japan) Case, Diritto del Commercio Internazionale 4 (2019).
El Acuerdo Comercial de Principio Entre la Unión Europea y México: Avances, Límites y Perspectivas Futuras, 7 Revista Latinoamericana de Derecho Comercial Internacional 1 (2019).
Recent Evolution in International Trade in the Transatlantic Area: Unexpected Consequences or Nothing New Under the Sun?, 53 Journal of World Trade 4 (2019).
La Controversa Definizione di "Investimento" alla Prova della Cultura e del Patrimonio Culturale e Naturale: Convergenze, Divergenze e Possibili Integrazioni, Diritto del Commercio Internazionale 1 (2019).
Supervening Impossibility of Performance and the Effect of Armed Conflict on Investment Treaties: Any Room for Manoeuvre?, in K. F. Gómez, A. Gourgourinis, C. Titi (Eds.), International Investment Law and the Law of Armed Conflict, European Yearbook of International Economic Law (Springer: 2019).
Governance of Intellectual Property (with L. Manderieux), in A. Farazmand (Ed.), Global Encyclopedia of Public Administration, Public Policy and Governance (Springer: 2018).
Pro Bono Pacis? Le Interazioni tra Diritto Internazionale degli Investimenti e Patrimonio Culturale, Rivista di Diritto Internazionale 3 (2017).
International Economic Disputes, Investment Arbitration and Intellectual Property: Common Descent and Technical Problems, 51 Journal of World Trade 2 (2017).
Regards Croisés sur les Conventions UNESCO et le Droit International de l'Économie: Entre Interactions Pratiques et Gouvernance Mondiale, in L. Manderieux, M. Vellano (Eds.), Éthique Globale, Affirmations Identitaires et Culturelles et Droit International de l'Économie, (G.Giappichelli Editore: 2017).
The Interpretation of General Exceptions in International Trade and Investment Law: Is a Sustainable Development Interpretive Approach Possible?, 43 Denver Journal of International Law and Policy 4 (2015).