ANNA GRANDORI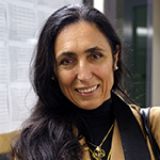 Professore Ordinario
Dipartimento di Management e Tecnologia

Insegnamenti a.a. 2021/2022
11548

THE LOGIC OF DECISION AND DISCOVERY
20322
DECISION MAKING AND NEGOTIATION
Note biografiche
Nata il 25 gennaio 1955. Liceo Scientifico. Laurea cum Laude in Economia politica presso l'Università Bocconi. Graduate Study Program in Business Administration, Harvard Business School.
Curriculum Accademico
Professore ordinario di Organizzazione aziendale, Editor in chief European Management Review, EURAM Fellow and EGOS Honorary Member. In Bocconi e' stata Presidente del CROMA (Centro di Ricerca sull' Organizzazione e Management), Direttore Istituto di Organizzazione e Sistemi Informativi, Direttore del CRORA (Centro di ricerca sull'Organizzazione aziendale), Direttore e professore di Metodologia della ricerca del PhD in Business Administration and Management. E' stata Ordinario di Organizzazione e gestione delle risorse umane e Direttore del Dipartimento di Economia Aziendale a Modena, e Associato di Sistemi informativi aziendali a Udine. E' stata visiting professor o invited speaker presso varie università italiane e estere, tra cui Copenhagen Business School; NYU; Stanford, Chicago; HBS; Groningen; Tilburg; Erasmus ; Norvegian School of Management. E' stata co-editor di Organization Studies, editor in chief di Journal of Management and Governance e membro di comitati scientifici di altre riviste internazionali e nazionali. Ha diretto vari programmi di ricerca nazionali e internazionali e ha ricoperto ruoli di coordinamento nell' associazione europea di organizzazione EGOS.
Aree di interesse scientifico
Economia organizzativa. Governance. Reti di imprese. Processi di decisione e negoziazione. Imprenditorialità
Pubblicazioni
PUBBLICAZIONI SELEZIONATE
- On Governance, Organization & Theory of the firm: Perspectives on Organization Theory Ballinger 1987 (Trnsl into Japanese); 'Asset commitment, constitutional governance and the nature of the firm' Journal of Institutional Economics 6/3, 2010; 10 Tesi sull'impresa.Contro I luoghi comuni dell'economia. Il Mulino 2015; Epistemic Economics and Organization, Routledge 2013; Handbook of Economic Organization. Integrating Economic and Organization Theory (Editor), Edward Elgar, 2013; Corporate Governance and Firm Organization (ed), Oxford University Press, 2004 (Translated into Chinese); 'The firm in search of its nature' European Management Review 16: 81-92, 2019; 'Costitutionalizing the Corporation' Research in the Sociology of Organization 79, 2022..
- On decision-making: "A Prescriptive Contingency View of Organizational Decision Making", Administrative Science Quarterly, n. 29, 1984; 'A rational heuristic model of economic decision making' Rationality & Society, 22/4, 2010.
- On inter-firm networks: "Inter-firm networks: antecedents, mechanisms and forms", Organization Studies, 16/2, 1995 (with Giuseppe Soda); "An Organizational Assessment of Interfirm Coordination Modes", Organization Studies, 6/8, 1997; Inter-firm Networks (ed), London, Routledge, 1998 (translated into Chinese).
- On entrepreneurship: Organizing Entrepreneurship. (Co-author L. Gaillard Giordani) Routledge, 2011; 'Entrepreneurship and the firm: a conversation on foundations and prospects' (Co-author Nicolai Foss) Industrial and Corporate Change, 29/3: 581–598 2020