STEFANIA GEREVINI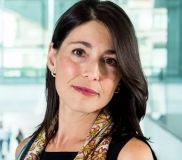 Assistant Professor
Dipartimento di Scienze sociali e politiche

Insegnamenti a.a. 2021/2022
30245
METODO, CRITICA E RICERCA NELLE DISCIPLINE ARTISTICHE / CRITICAL APPROACHES TO THE ARTS
30396
CRITICAL APPROACHES TO THE ARTS II - MODULE II (ART AND POLITICS)
30478
METODO, CRITICA E RICERCA NELLE DISCIPLINE ARTISTICHE II - MODULO II (ARTE RINASCIMENTALE)
Note biografiche
Stefania è Assistant Professor di Storia dell'Arte in Bocconi, e Research Fellow dell'Accademia Britannica (Roma). Le sue aree di ricerca ed insegnamento principali riguardano l'arte medievale e bizantina.
Curriculum Accademico
Dopo la laurea in economia per l'arte, la cultura e la comunicazione (Bocconi), Stefania ha conseguito MA e PhD in storia dell'arte medievale e bizantina presso il Courtauld Institute of Art di Londra.
Prima del suo incarico in Bocconi, Stefania ha ricoperto le posizioni di Research Fellow presso il Kunsthistorisches Institut in Florenz — Max-Planck-Institut; Lecturer di storia dell'arte bizantina presso il Courtauld Institute of Art; e Vicedirettrice dell'Accademia Britannica di Roma.
Stefania è stata Visiting Fellow presso diverse istituzioni internazionali, tra cui: Dumbarton Oaks Research Library and Collection, Washington D.C. (2016); The Leibniz WissenschaftsCampus, Mainz/Frankfurt (2019); the KHI Florenz (2020-21); l'Institut national d'histoire de l'art (INHA), Paris (2021).
Aree di interesse scientifico
Attualmente, il lavoro di Stefania si concentra sulle seguenti aree di ricerca:
Interazioni artistiche, conflitto e memoria pubblica nel Mediterraneo medievale. Il suo progetto monografico declina questi temi in relazione al rapporto tra politica, arte e crisi a Venezia nel quattordicesimo secolo.
Luce e trasparenza nelle arti medievali: concettualizzazioni ed applicazioni pratiche. In particolare, usi e significati del cristallo di rocca nelle culture religiose e secolari dell'Europa medievale.
Nozioni di materialità, liminalità e presenza nell'arte del medioevo occidentale e bizantino.
Pubblicazioni
PUBBLICAZIONI SELEZIONATE
"Art as Politics in the Baptistery and Chapel of Sant'Isidoro at San Marco, Venice", Dumbarton Oaks Papers, Vol. 74 (2020), pp. 243-268.
"The Bern Diptych: Venetian rock crystal between craft, trade and aesthetics", in Seeking Transparency. Rock Crystals Across the Medieval Mediterranean, edited by Cynthia Hahn and Avinoam Shalem, Gebr. Mann Verlag (2020), pp. 183-195.
"Rock crystal in the medieval west: an essay on techniques and workshops", in Seeking Transparency. Rock Crystals Across the Medieval Mediterranean, edited by Cynthia Hahn and Avinoam Shalem, Gebr. Mann Verlag (2020), pp. 89-100.
"Inscribing history, (over)writing politics: word and image in the chapel of St Isidore at San Marco, Venice", in Sacred Scripture / Sacred Space. The Interlacing of Real Places and Conceptual Spaces in Medieval Art and Architecture, edited by Tobias Frese, Wilfried E. Keil, Kristina Krüger, De Gruyter (2019), pp. 323–349.
"Invisible, in full view: the Byzantine reliquaries of Santa Maria della Scala, Siena", in Visibilité et présence de l'image dans l'espace ecclésial. Byzance et Moyen Age occidental, edited by Sulamith Brodbeck and Anne-Orange Poilpré, Editions de la Sorbonne (2019), pp. 195–229.
"Written in stone: civic memory and monumental writing in the cathedral of San Lorenzo in Genoa", in Viewing Texts: The visual powers of inscriptions in the Mediterranean and Iranian Worlds, ed. Antony Eastmond, Cambridge University Press (2015), pp. 205–229.
"Sicut crystallus quando set objecta soli: rock crystal crosses, transparency and the Franciscan order in the later middle ages", Mitteilungen des Kunsthistorischen Institutes in Florenz, Vol. 56/3 (2014), pp. 255–283.
"Christus Crystallus: rock crystal, theology and materiality in the medieval west", in the Matter of Faith. An interdisciplinary study of relics and reliquaries, eds James Robinson and Lloyd De Beer with Hannah Harnden, British Museum Press (2014), pp. 92–99.
"The Grotto of the Virgin: artistic reuse and cultural identity in medieval Venice", Gesta, University of Chicago Press, Vol. 53/2 (2014), pp. 197–220.