SILVIA ZAMBONI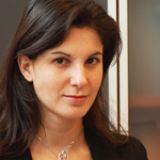 Lecturer
Dipartimento di Management e Tecnologia

Insegnamenti a.a. 2021/2022
10232

SUSTAINABLE INNOVATION AND SUPPLY CHAIN MANAGEMENT
10318

NEW PRODUCT DEVELOPMENT
11821

INNOVATION MANAGEMENT ON-LINE
20481
BUSINESS GAME (for Management)
20575
GLOBAL OPERATIONS AND SUPPLY CHAIN MANAGEMENT
30014
GESTIONE DELLA TECNOLOGIA, DELL'INNOVAZIONE E DELLE OPERATIONS
30154
TECHNOLOGY AND INNOVATION MANAGEMENT
30222
NEW PRODUCT DEVELOPMENT AND OPEN INNOVATION
Note biografiche
Laurea quadrienne in Economi Aziendale con specializzazione in Gestione dei processi di Innovazione, Università Bocconi (2001) e P.h.D. in Logistcs and Supply Chain Management, Università di Bergamo in collaborazione con l'Università di Saragoza e il MIT-Zaragoza Logistic Center (2011).
Curriculum Accademico
Lecturer del Dipartimento di Management e Tecnologia dell'Università Commerciale L. Bocconi e SDA Professor della Unit Operations & Technology Management, SDA Bocconi School of Management.
Responsabile e docente dei corsi "Sustainable innovation and Supply Chain Management" (in inglese, Master in Green Management, Energy and Corporate Social Responsibility), "Innovation Management" (in inglese, Master in Food and Beverage), "Innovation and New Product Development" (in inglese, Executive Master in Business Administration) and Project Management (in italiano, Master in Real Estate).
Ha seguito il programma ITP, ed. 2015, International Teachers Programme - Innovative Pedagogy in Challenging Times, al CEIBS, China Europe International Business School (CEIBS), nei campus di Shanghai e Pechino.
Aree di interesse scientifico
I suoi interessi di ricerca comprendono la collaborazione lungo la supply chain (e network) per migliorare i processi innovativi aziendali, la gestione dei processi di innovazione e la gestione della conoscenza nei progetti collaborativi.
Pubblicazioni
PUBBLICAZIONI SELEZIONATE
Le regole del gioco degli Enteprise Social Network: il caso Reply (con G. Salviotti, F. Saviozzi). Economia e Management, ETAS, Vol. 6, Dicembre (2014)
Open innovation e innovazione collaborativa: creare valore con il network, Strategie & Procurement, pp. 7-9 (2013)
Promuovere e gestire l'innovazione in azienda: le competenze richieste al Business Innovation Manager, Economia & Management, Vol.4, ETAS, pp. 54-55 (2010)

L'acquisto di innovazione: relazioni collaborative e fonti di innovazione esterne all'azienda, Strategie & Procurement, n. 7, Vol. 6, pp. 18-20 (2009)

I nuovi ruoli dell'innovazione: il Business Innovation Manager (con E. Baglieri), Economia & Management, vol. 5/09, ETAS, pp. 9-17 (2009)
L'eccellenza nei processi di innovazione aziendali Best Innovation Award 2007 (con G. Salviotti), Economia & Management, ETAS, pp. 55-65 (2008)
Operations & Innovation Management. Alcuni casi di successo (con F. Gallmann, V. Veronesi), vol. 3, Economia & Management, ETAS, pp. 45-52 (2007)
Performance industriali ed eccellenza nelle operations. I trend dell'International Best Factory Award, Operations, Engineering, Produzione e Asset Management, Febbraio, pp 43-47 (2004)